LMS data migration
Is it time to move from your current solution to WestNetLMS? Our migration team will make migrating your historical training data quick and efficient. Just export it from your current LMS in an xls file and we will take it from there!
HRIS Sync with LMS
Quickly enable sync from your HRIS system to the LMS. Automatically add and remove users from the LMS based on your HRIS feed.
Some of the HRIS we sync with!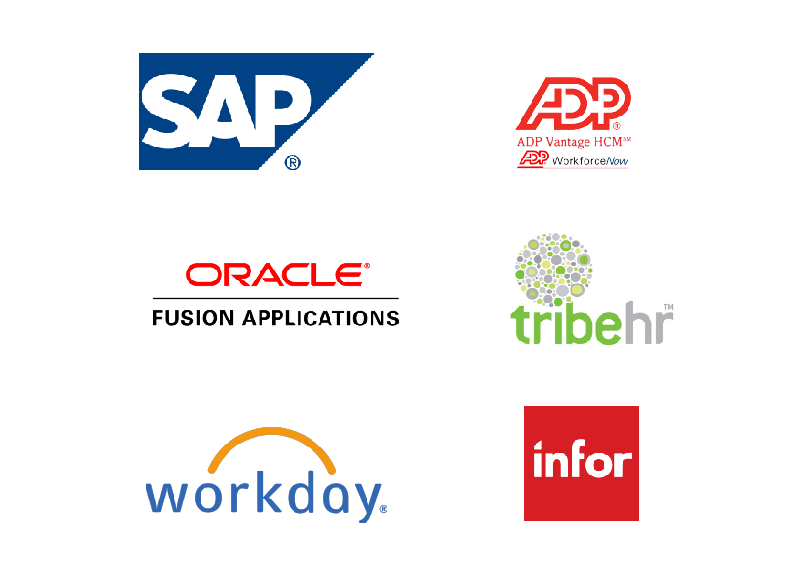 Support for your LMS Team
Standard support is included (no extra fee), to guide your LMS administrative staff should they have questions or need assistance.
E-learning provider content integration
Host or connect ANY content to the LMS, (SCORM, AICC, xAPI) or even connect to catalogs such as Linked in learning, BizLibrary, Vado, and Harvard mentor.
LMS Implementation (Included)
Your LMS can be available to get started in just minutes. You drive the schedule. Implementation can be as quick as a few days, you set the schedule based on your needs and requirements.
12 Steps to Launching Your LMS
1
Approve and sign LMS agreement
Approval and signature from Client
2
Implementation meeting and deploy LMS site
1-2 hour web session
Done same day agreement is signed. Site deployment is automated and only takes a few minutes.
3
Train admins, on site customization, and hierarchy setup
1-2 hour web session
2 hour web session - recorded and placed in video library for client future use. During training, your LMS team will brand and setup site preferences. Implementation meeting done via web conference.
4
Train Admins on course loading, bundle creation and event creation
1-2 hour web session
Web meeting and recorded and loaded to LMS for future use. During training your LMS team will load courses, restrict to locations & departments and set up catalog categories.
5
Enable, configure and test Single Sign On
3-5 days
A Team effort with WestNet tech team, and client IT group to enable SSO and auto user registration and permissions. Step 6 only applicable if client will be utilizing SSO.
6
Get user list from HRIS system to load into LMS – Use LMS Template
3-5 days
Import user list from HRIS system to include hierarchy set up and permissions settings for managers and supervisors. This is done by WestNet after receiving file from client. Users and user training data imported to LMS.
7
Train admins on user loading and user management
1-2 hour web session
Web meeting Session recorded and placed in video library for client future use.
8
Enable HRIS sync via file load
3-5 days
WestNet and client HRIS team will setup HRIS file load to SFTP and auto import to LMS daily for new users, changed users and terminated users. Once file format is agreed upon and set up to be auto loaded to SFTP.
9
Test data file sync with client HRIS team – correct as needed
2 days
Testing by both parties to ensure data import is proper.
10
Train admins on site management – announcements, file cabinet, video locker, course restrictions, and custom roles ie: manager, supervisor etc.
2 hour web session
11
Final site testing prior to launch to enterprise
1 day
Have pilot group test LMS, for student and manager admin access for course launching, reporting and use.
12
Launch site to your enterprise!
Time to celebrate!
Easily customize site preferences. Site Preferences include; icons selection, user dashboard, auto options, mail settings eBook approval, learning leader board configuration etc. Additionally, you can enable scheduled sync of required data from your HRIS system to LMS and from LMS to HRIS system. ie: User info, training completion, and more.
Our average LMS implementation only takes 14 -21 days! You drive the schedule based upon your teams schedule, and desired date to launch LMS out to your community. So your team calls the shots and decides how quickly implementation can be accomplished.