WestNetLMS - Modern, Mobile, Easy to Manage - Benefits/Features
Benefits of WestNet LMS
The WestNet team and their focus, passion and success in providing the best of products and services to our client partners, it just sums up who they are.
Modern display and solid functionality
A Modern LMS for a Modern Workforce. Deliver training "Anywhere" via computer, Smart Phone or Tablet.
Price plans to fit nearly every training budget.
We are not a Vendor, we truly partner with your team to foster success in the advancement of your training program, and training vision.
LMS Administrator Features - Site Setup
Customize Site Preferences
Site Preferences include; icons selection, user dashboard, auto options, mail settings eBook approval, learning leader board configuration . Upload your own graphics for landing pages and site navigation.
Customize Catalog Display
Customize the columns to display on the users catalog view for entire site and by Dept/Location.
Manage Job Titles
Set Job titles for entire site or by Dept/location for registration and reporting.
Learning Certificates
Select certificates for site and or by Dept/Location for users to print upon successful completion of learning items.
Build Custom Pages Module
Customize site home page and build other additional pages as needed. Also set custom wording for catalog, support and FAQ pages.
eCommerce Module
Add eCommerce to your site for credit card processing of sales.
Customize Colors/Fonts
Set site colors and fonts for the site, in addition you can set them differently for specific orgs, depts and locations.
Competency Tracker Module
Build Competency/Certification tracks for reporting. This is a great feature for managers to view who has done the best for promotion.
Assign locations to Regions
Associate locations to regions/franchises for various reporting features.
Enable Single Sign On (SSO)
Enable single sign on from your intranet, or employee portal. This will utilize users username and password from that site to login to LMS.
Add Logo/Banner for Multiple Orgs
Add logos and or banner for site, in addition you can add them for specific orgs, depts and locations – multi branding in a single LMS.
Enable HRIS Sync
Enable scheduled sync of required data from your HRIS system to LMS and from LMS to HRIS system. ie: User info, training completion etc.
Training Badges Module
This is a user dashboard display item that displays the Training Badges obtained by the trainee through the successful completion of training, also displays who the TOP training badge holders are for the site.
Some of the HRIS we sync with!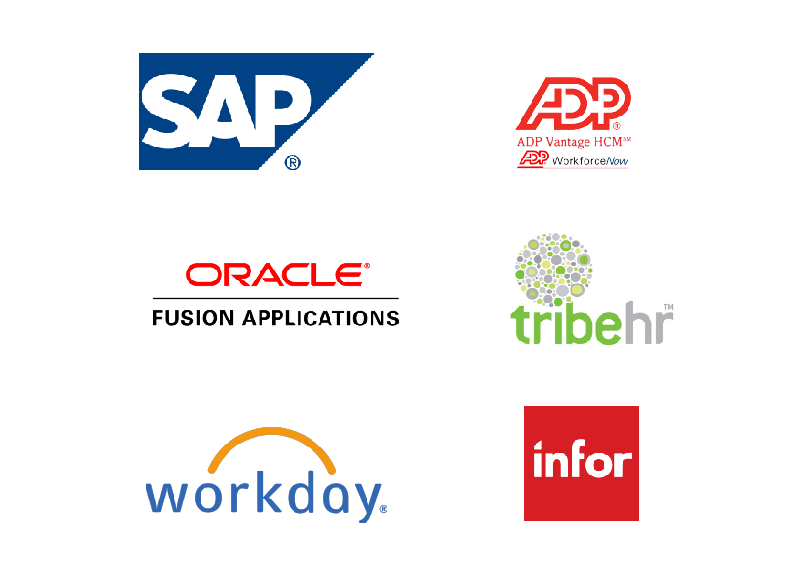 LMS Administrator Features - Users
Add Users
Add individual users and manage their profile and organization assignment.
Manage Users
Assign courses and events, view users transcript, deactivate users, modify users profile.
Manage By Custom Role Admin
Ability to sort users based on their administrative permissions role and manage users and permissions.
Batch Load Users Module
Add multiple users via template load and assign to organization department/location.
Supervisor Location Assignment Module
Ability to assign Managers and Supervisors to locations so that they can pull reports and manage users for those locations ONLY.
Legacy Data Import Module
Import prior learning data from other systems or outside training sessions via template.
Dev Plan Module
Build Development Plans based on any criteria such as job duties, certification, or annual review and assign to users based departments, locations or individual users.
Manage Users By Hierarchy/Dept/Org
Ability to view users and modify/move and manage based on their department/location.
Create Custom Admin / Manager Roles
Create custom Manager / Supervisor roles with specific administrative permissions related to their duties.
Instructor Module
Ability to add/delete or change instructors assigned to instruct eCourses, ILT or vILT sessions. Instructors can manage classroom courses, enter grades, comments, and communicate with users.

LMS Administrator Features - Catalog
Add/Build eProducts Module
Import AICC, SCORM or TIN CAN (xAPI) courses, Create courses and assessments with course creator, even add eBooks to the LMS. In addition ability to build curriculum bundles to group courses into a bundles based on certification, job title, or any other criteria.
Course Auto-Enroll Module
Ability to preset automatic enrollment in courses and bundles for users based on date, location and job title.
Manage eProducts Module
Ability to replace courses with new versions, change any attributes. As well as assign courses to users and groups.
ILT and vILT Events (Classroom and Virtual Sessions)
Ability to create Classroom sessions and Virtual sessions for users to register for which includes automatic wait listing, and instructor access to manage the roster and scores/completions.
Custom Catalog Categories Module
Build and manage the catalog categories to place ecourses and events to display to users in catalog view for self-registration.
Course Prerequisite Module
Ability to require that courses are taken in a specific sequence for all users or users based on department and location.
Survey Module
Build and manage surveys that can be stand alone or added to courses and ILT/vILT.
eBooks Module
Ability to offer eBooks to users via the catalog for registration.
Course Key Module
Ability to create course keys to be distributed based on bulk purchasing of courses. Normally used when charging for courses.
Restrict Courses Module
Ability to restrict courses to specific departments and locations, only to be available in the catalog by those specific departments and locations.
LMS Administrator Features - Communications
Social Learning Discussion Groups
Add and manage unlimited discussion groups for your users and site. Includes ability for users to view, post and be automatically notified of new posts to boards the user is interested in.
Document Distribution -- Secure File Cabinet Module
Ability to upload documents and restrict them to departments, locations and job titles for accurate distribution. This is also available for Managers and Supervisors to distribute documents to ONLY their departments' users.
Video Locker / Video Library Module
Upload any type of video file and it will automatically be re-encoded for desktop, tablet and mobile device playback. Add videos to the video locker and set video viewing options by organization, departments, locations and job titles for accurate distribution via the video library . This is also available for Managers and Supervisors to distribute videos to ONLY their departments' users video libraries.
Post Announcement Module
Ability to post and manage date driven announcements. Announcements can be added for the entire site or restricted to specific departments and locations. Managers and Supervisors can also add announcements that are ONLY seen by their locations users.
Post Calendar Items Module
Ability to post calendar items to users training calendar based on department location and job title. Managers and Supervisors can also do this ONLY for their departments and users.
Email Users
Ability to email individual users and or groups of users directly from the LMS.
Automated Email Notifications
Manage and edit automatic emails to users based on course registrations, site registration, ILT/vILT enrollment or un-enrollment.
LMS Administrator Features - Reports
Ready Reports Module
Access to a variety of prebuilt reports to pull analytics for users, courses, surveys, and more.
Custom Reports
Ability to create unlimited custom reports based on your configuration of the data fields available.
Analytics Dashboard
Access to a graphical dashboard view of direct reports training status, site stats and course registrations and completions based on the courses you choose to track, includes drill down capability to view underlying data.
Sample Location Training Report:

Student Learning Features
Mobile and Touchscreen Enabled – Any Device
Tiled landing pages with auto notifications of announcements, calendar items, courses added by supervisors. System is both desktop and mobile friendly.
Navigation
Tiled site navigation for mobile and touchscreen, user can choose from tab or dropdown sub navigation.
Learning Dashboard
Quick access to the most used features by students. View announcements, launch courses, view social learning discussion groups, access personal learning plans, access personal training calendar. User drag and drop of custom placement of dashboard sections with save.
Learning Leaders
Display of users course competition points and display of the top 3 users with the highest course completion.
Secure File Cabinet – Document Distribution
User can view documents shared with the user by admin and manager.
Student Learning Features - Catalog
Courses and Events
Browse for courses and events.
Search for courses and events.
View courses and events descriptions.
Self-registration.

Student Learning Features - My Learning
Courses and Events Registered For
Launch courses.
View course – progression bars, mandatory courses, past due courses, and status of not started, in progress.
View event information and documents related to events.
View virtual event information and launch webinar using your favorite web conference tool.
Transcripts and Certificates
View and print transcript.
View and print certificates for completed learning items.
Student Learning Features - My Calendar
Training Calendar
Notifications of courses ready to expire.
Notifications of upcoming events.
Notifications of calendar items added by manager.
User can also add personal calendar items of any type.

Want to find out which LMS features and pricing is right for you?
Learn more about what pricing options are available.
Check pricing!
Student Learning Features - My Account
Users Account
View account information.
Modify account information – change password, update name, email address and physical address.
View course registration history.
Student Learning Features - Support
Site Support
View site requirements.
Test Browser settings.
View site FAQs.
Contact support for assistance.