Ensure Energy Utility Worker Compliance with this free eGuide!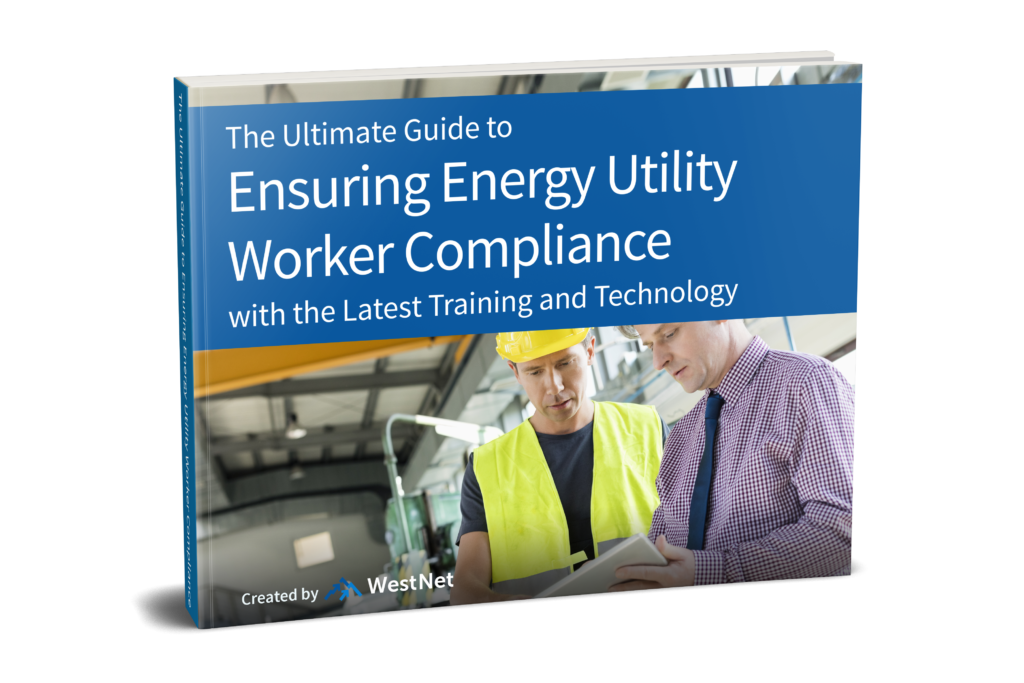 Which compliance challenges utility workers face
The differences specific energy utility industries have with compliance
How to address compliance challenges with the best technology
How to design a training plan for your workers
Excerpt
The year was 1970. The Occupational Health and Safety Administration would introduce its Occupational Safety and Health Act of 1970. This Act would forever change the ways working men and women were assured safety in their workplaces.
OSHA has authorized the enforcement of many standards developed under the Act, and continuously assists and encourages states to provide safe and healthy working conditions by enforcing these explicit standards. Its mission is to also provide research, education, information, outreach, assistance, and training in the areas of occupational health and safety to ensure workers have the required skills and knowledge to do their work safely.
Under the Act, employers must provide for training programs to increase the number and competence of employees engaged in the field of occupational safety and health. In addition, the Secretary of Health and Human Services, after consultation with appropriate Federal departments and agencies "…shall conduct directly or by grants or contracts…" the following with regard to training:
Education programs to provide qualified personnel to carry out the purposes of the Act
Informational programs on the importance of and proper use of safety and health equipment
Short-term training of personnel engaged in work that is related to their responsibilities under the Act
Training of employers and employees in the recognition, avoidance, and prevention of unsafe or unhealthful working conditions covered by the Act
Consult and advise employers and employees on effective ways of preventing occupational injuries and illnesses
However, with the multiple standards present in the Act and from other agencies, today's utility workers are inundated with health and safety information as well as ever-changing professional competency requirements held within the Act. As a result, getting workers in high-risk professions such as electric distribution, oil and gas, and nuclear power to retain critical information and maintain compliance can be challenging.
Employers should understand the special health, safety, and technical knowledge challenges these utility workers face. By using self-directed learning, performance monitoring, and innovative curriculum tools, utility worker education and competency reviews can be uncomplicated and effective.
The purpose of this guide is to discuss how energy utility companies in the electric power generation, transmission, and distribution, oil and gas extraction, and nuclear power industries can ensure their workers receive the most current compliance training using the latest technology. It also looks at the challenges utility workers face. It will highlight how OSHA and other governmental agencies offer support for training as well as how employers can collaborate with a technology platform provider to design an effective company-wide compliance program.
Understanding the Workplace Compliance Challenges Utility Workers Face
Utility workers face hazards every working day. Most days on the worksite are unremarkable: no accidents with negative outcomes. But if something should happen, among the first things checked involve compliance. Were the individuals involved working as directed within specific OSHA standards? Did they receive adequate training to do their job? Were there issues with their personal protective equipment? Was the equipment used faulty? Did a worker make the decision to forego personal protection equipment, even if only for a minute since a job would "take only a minute". Or was it a true accident?
The many factors of workplace accidents
While many workplace accidents are just that—accidents—some aren't. There are a number of factors that can contribute to serious incidents that shouldn't happen to begin with. These may be:
Human error
Worker culture
Recklessness
Negligence
Complacency
Lack of proper personal protection equipment (PPE)
Miscommunications
Misuse of equipment, including PPE
Faulty equipment, including PPE
Transportation issues
Some workers may think, "This work will only take a minute." A minute later, they've fallen, taken a face-full of some substance, had a piece of equipment malfunction, had a limb caught in machinery, or been struck by a vehicle.
These should have and could have been prevented.
Questions could be asked if workers had received proper compliance training and had those around them who were certified to identify and act on hazards before accidents occurred.
The electric power generation, transmission, and distribution; oil and gas extraction; and nuclear power industries all face challenges when it comes to workplace safety each and every day.
Electric power generation, transmission, and distribution
Electrical hazards cause more than 300 deaths and 4,000 injuries every year. According to the Center for Disease Control's National Institute of Occupational Safety & Health (NIOSH), electrical accidents rank sixth among all causes of work-related deaths in the U.S. Some accidents that occurred were the following:
An electric utility worker was installing replacement batteries in a substation. An electrical fault happened when a battery cable fell onto the terminals of one of the batteries. As a result, the resulting electric arc severely burned and melted the worker's rubber gloves. This employee sustained second- and third-degree burns that required several surgeries and multiple days in the hospital.
A line worker was descending a utility pole when his pole climbers cut out. He fell over 30 feet, sustaining fractured legs, ribs, and pelvis along with internal injuries. He was hospitalized for 14 days.
A 53-year-old electrical substation mechanic suffered a fatal fall after making contact with an energized 26,000 volt power line. The worker had climbed a ladder and was attempting to free a jammed switching device. The lines were in fact energized. The worker was shocked after touching a live electrical conductor which resulted in his 12-foot fall.
What compliance standards apply?
The industry has many OSHA standards for compliance. These include:
Code of Federal Regulations (CFR) 1910.269 for Electric Power Generation, Transmission, and Distribution for personal protective equipment
29 CFR 1910.132 – General requirements
29 CFR 1910.133 – Eye and face protection
29 CFR 1910.135 – Head protection
29 CFR 1910.136 – Foot protection
29 CFR 1910.137 – Electrical protective equipment
29 CFR 1910.138 – Hand protection
29 CFR 1910.333(a) – Employers must employ safety-related work practices to prevent electrical shock or other injuries resulting from either direct or indirect electrical contact
CFR 1910.269(l)(8) – Flame-resistant and arc-rated clothing and other equipment that has an arc rating greater than or equal to the heat energy in a system
There are also standards from the National Fire Protection Association (NFPA) also known as National Electric Code 70 that covers how operators should mark arc-flash hazard warnings. Additional standards include:
70E – Standard for Electrical Safety in the Workplace, including arc flashes
73 – Standard for Electrical Inspections for Existing Dwellings
77 – Recommended Practice on Static Electricity
78 – Guide on Electrical Inspections
79 – Electrical Standard for Industrial Machinery
The oil and gas extraction industry
Like its electric counterpart, the gas and oil industry is among the most at-risk jobs in the United States. With exposure to powerful, flammable chemicals, fires and explosion risks, and other processes that are under high pressure can lead to accidents and deaths. Yet, while it has one of the most thorough safety programs with safety procedures and safeguards in place, according to the Centers for Disease Control and Prevention (CDC), the industry's fatality rate was seven times greater when compared to other industries during the period from 2003 to 2013. The industry experienced 27.6 percent in fatalities, with a total of 1,189 deaths.
Among the workplace accidents included:
Six employees were working on a double mast service rig that was pulling a 4.5-inch casing from the gas well after completing the first stage of an open hydraulic fracture. An experienced rig hand was standing under the load block when the load line failed. The rig hand received a fatal injury from blunt force trauma to his upper torso. The load line was in poor working condition with broken wire strands as well as dry, rusted, and brittle, even though the company reportedly routinely lubricated the load line.
A derrickman was working on the derrick board of a rig. After he had taken a break, he climbed back to the derrick board, but did not attach his fall protection device after unhooking from the climb assist. He then grabbed the first stand of pipe with the tail rope to keep his balance as the elevators were sent up to attach to the pipe. He released the tail rope, losing his balance and sustained a fatal fall when he fell 90 feet to the rig floor.
What are the main areas that experience injuries and fatalities in the oil and gas industry?
Hand and finger injuries
According to the International Association of Drilling Contractors statistics, hand and finger injuries accounted for 43 percent of all recordable incidents on drilling rigs.
Hand and finger injuries make up nearly 50 percent of reportable incidents in the oil and gas industry. At some facilities, the number is closer to 80 percent. Threats have included:
Hands caught between or struck by objects
Exposure to heat, cuts, bruises, burns, chemicals, punctures, and cold or infectious or biological agents
According to OSHA, around 30 percent of hand injuries occurred because hand protection was inadequate, damaged, or misapplied. Because of this, companies are concentrating on hand and finger prevention injuries. Companies must determine the proper types of gloves
Falls
These workers, many of whom work on the rig floor at heights up to 30 feet, have the highest risk for falls. Using OSHA data from the period of the 2005-2014, the 2015 Morbidity and Mortality analysis showed that 63 workers died from fall events. These included derrickmen working above the rig floor and who were handling pipe. Companies should initiate measures derrickmen and other workers engaged in assembling or disassembling drilling rigs could reduce falls in this industry.
What standards apply?
The following standards apply to the gas and oil industry, including those from the American Petroleum Industry (API).
OSHA 29 CFR 1910.23 – Ladders, Walking, and Work Surfaces
29 CFR 1910.184 – Applies to slings used in conjunction with other material handling equipment for the movement of material by hoisting,
29 CFR 1910.184(c)(9) – All employees shall be kept clear of loads about to be lifted and/or suspended.
The API leads the development of petroleum, natural gas and petrochemical equipment and operating standards. It maintains more than 700 standards and recommended practices that have been incorporated into state and federal regulations, These are the most widely cited standards by the international regulatory community. Some of the standards include:
API RP (Recommended Practice) 9B, Paragraph 3.3.9 – Application, Care, and Use of Wire Rope for Oilfield Services – Ropes will need to be lubricated with a good grade of lubricant which will penetrate and adhere to the rope, and which is free from acid or alkali.
API RP 54 – Perform daily visual inspections and monthly inspections of all hoisting lines.
API RP 9B, Section 6- Implement a slipping and cut-off preventive maintenance program for hoisting lines.
API RP 9B, Section 5.5 – Immediately remove damaged lifting lines from service.
API RP 54, Section 9.6.6 – Provide worker training emphasizing the following: a) Wire rope inspection criteria; b) Preventive maintenance requirements for wire rope; and c) How to identify, prevent and protect themselves against struck by, falling object, and suspended load hazards on the rig floor.
The nuclear power industry
According to the Nuclear Energy Institute (NEI) regarding safety surrounding this energy, the answer is an unequivocal yes due to the industry's comprehensive safety procedures and stringent federal regulations keep plants and communities safe. Safety is a top priority.
The Nuclear Regulatory Commission (NRC) licenses and regulates the U.S. commercial nuclear energy industry.
In terms of safety, U.S. plant workers are extremely well-qualified and must hold federal licenses to operate or supervise. The training is highly extensive:
Training takes up to 24 months to complete before the NRC tests and certificates the individual.
Training continues throughout the length of the worker's license. They spend one week in the classroom and in a nuclear simulator for every five or six weeks of work.
Workers also have to be physically fit and undergo background and criminal history checks.
In addition, the NRC assigns at least two full-time inspectors who are free to observe anything at the plant at any time.
While few are far and in between, there have been the industry's largest, serious accidents involving several plants that involved human errors. For example:
Chernobyl nuclear power plant – Unit 4 of the power plant was to be shut down for routine maintenance. The test was carried out without a proper exchange of information and coordination between the team in charge of the test and the personnel in charge of the operation and safety of the reactor. There were inadequate safety precautions in the test program. Operating staff were altered to the possible test danger. There was a lack of coordination and awareness from an insufficient level of safety culture, and operational errors as well as the faulty design in the reactor design.
Three-Mile Island nuclear power plant – The basis of the accident occurred when there were failures in the non-nuclear secondary system. This was followed by a human-operated relief valve that had stuck open, releasing large amounts to nuclear coolant to escape. The incident was attributed to plant operators' failure to correctly identify the problem, along with an accidental manual override due to a hidden indicator button. The operator in question has mistakenly believed too much coolant in the reactor had caused the steam pressure release.
What standards apply?
The nuclear power industry is heavily regulated by OSHA and the NRC.
OSHA's standards include:
1915.57 – Activities involving the use of radioactive materials whether or not it's under license from the NRC must be performed by competent persons who are specially trained in the proper and safe operation of such equipment.
1926.53 – Activities that involve the use of radioactive materials whether or not it's under license from the NRC must be performed by competent persons who are trained in the proper use and safe operation of that equipment. Only person licensed or competent persons will perform activities under the direction and supervision of the licensee.
The NRC also provided a significant number of standards. These are NRC Title 10, Code of Federal Regulations that make up to 199 standards found in the online edition. There is also an annual bound edition that features the most recent revisions to the codes. NRC Title 10, Code of Federal Regulations covers:
Commercial reactors for generating electric power and research and test reactors used for research, testing, and training
Uses of materials in facilities that produce nuclear fuel
Transportation, storage, and disposal of nuclear materials and waste, including the decommissioning of nuclear facilities from service
The North American Electric Reliability Corporation (NERC)
NERC works to lay the foundation for the safety, security, and reliability of the North American bulk power system. It sets reliability standards, analyzes system disturbances, and conducts periodic reliability audits and assessments. Breaches of compliance from NERC are severe—with civil and criminal penalties up to $1 million per day.
Ensuring Energy Utility Worker Compliance with the Latest Training and Technology
Today's utilities companies must look to adopt a systematic, cost-effective approach to their compliance programs.
Each of the three industries have multiple standards for which compliance is mandatory. Since some standards have been more recently enacted, the knowledge sets needed are even greater.
To achieve compliance, a risk assessment should evaluate the potential for human error and address its possible impact on people, processes, work environments, and equipment.
The three utilities areas—electric power generation, transmission, and distribution; oil and gas extraction; and nuclear power—have OSHA compliance regulations. The nuclear power utility has to also comply with regulations set forth by NRC.
Ensuring Energy Utility Employee Compliance Training
Accidents can and do happen. Some are beyond anyone's control, but others occur due to instances where compliance was scarce or absent altogether. In order to ensure worker health and safety, companies must provide their employees with compliance training.
Why do employees need compliance training? It's mandatory, and it's the right thing to do. When your employees are properly trained and certified, they are more productive and know they are safe on the work site.
Failure to comply with regulations results in heavy fines, penalties, and potential criminal and/or civil litigation. OSHA makes this clear:
Serious / Other Than Serious Posting Requirements – $13,260 per violation
Failure to Abate – $13,260 per day beyond the abatement date
Willful or Repeated – $132,598 per violation
There are multiple incidents where companies suffered heavy fines from OSHA non-compliance:
OSHA cited American Showa, Inc with 13 safety and health violations, including failing to train workers to recognize unsafe electrical work practices. Proposed fines: $151,330.
OSHA cited Vienna Beef Ltd for 10 serious safety violations with proposed fines of $53,000 for failing to train and evaluate powered industrial vehicle operators.
Home Depot was issued serious and repeated citations with proposed penalties of $70,500 when it was found that an employee suffered chemical burns due to the lack of appropriate PPE and training for protective equipment.
Not only is their safety critical, but employers must ensure their employees receive compliance training.
What should companies do regarding protecting their workers?
It was determined that additional inventions could prevent accidents. Safety managers and supervisors should identify and communicate recommended safety controls and hazards that exist on each work site before work begins. Companies should also annually update their protection plans and ensure that their prevention programs are in place for their workers. They should also provide training on proper use, fit, and inspection of personal protection equipment.
In addition, employers should appoint a competent person for the work site as dictated in OSHA standard 1926.32(f). This person, or persons, would be responsible for:
identifying workplace conditions that are dangerous, hazardous, or unsanitary to employees and others on the site
identifying existing and predictable potential hazards in their surroundings
having authority to take prompt corrective measures to eliminate any hazards
How OSHA and Other Agencies Support Compliance Training Curriculum Development
OSHA and the NRC support training curriculum with a wide range of free educational materials. These include:
Booklets – This booklet provides a general overview of worker rights under the Occupational Safety and Health Act. The booklet is also available in Spanish.
eBooks – OSHA provides a large collection of eBooks regarding issues surrounding various industries, including "Employer Rights and Responsibilities Following an OSHA Inspection."
Data sheets – Data sheet that provides information on hazard communication safety and is available in Spanish.
Fact sheets – General Industry Walking-Working Surfaces and Fall Protection; Final Rule
Guidance documents – These documents provide comprehensive examinations of standards and specific safety and health issues surrounding Electrical and Oil and Gas Extraction.
Handbooks – These handbooks provide an overview of the Agency, its regulatory responsibilities, policies, procedures and programs. Available in English, Spanish, and Vietnamese.
Online Safety and Health topics pages
Posters – Available in multiple languages
Small, laminated QuickCards™ – Provide brief safety and health information.
QuickTakes – OSHA's free, twice-monthly online newsletter with the latest news about OSHA initiatives and products to assist employers and workers in finding and preventing workplace hazards.
In addition to their availability in English, these materials extend their reach into multiple languages:
Even more specifically, OSHA offers additional training resources dealing with the industry-specific electrical utility industry. Some of the publications for the electric and nuclear industries include, but are not limited to:
Circuit Breakers: Incorrectly Refurbished Circuit Breakers Hazard Alert
Electric Power: Electrical Protective Equipment Requirements
Electric Power: Fall Protection Requirements
Electric Power: Major Changes to the Rule
Electric Power: Minimum Approach Distance, Information Transfer and Training Requirements
Electrical Hazards: Working Safely Around Downed Electrical Wires Fact Sheet
Electrical Safety Hazards of Overloading Cable Trays Fact Sheet
Electrical Safety QuickCard™
Electricity: Working Safely with Electricity Fact Sheet
Hazards of Improper Elevator Controller Wiring
Lockout/Tagout Fact Sheet
Possible Failure of Metal Halide Lamps
Potential for Feed Water Pipes in Electrical Power Generation Facilities to Rupture Causing Hazardous Release of Steam and Hot Water
Potential Hazards of Mislabeled Steel Toe Logger Boots
Safely Installing, Maintaining and Inspecting Cable Trays
Snow Removal: Falls and Other Hazards to Workers Removing Snow from Rooftops and Other Elevated Surfaces
Tree Care Work: Electricity and Tree Care Work Pamphlet
Work Practices Employed by the Electric Utilities Industry Regarding Sulphur Hexafluoride Gas-Insulated Circuit Breakers
OSHA also supplies PowerPoint slide presentations covering Radiofrequency (RF) radiation in the form of an introduction to ionizing radiation, standards and regulations, requirements, and an introduction to laser safety:
NRC materials
The NRC also supplies a wide collection of industry backgrounders and fact sheets.
Designing an Effective Company-Wide Compliance Training Program
Every employer dreads a knock on the door from an OSHA inspector. But an inspection doesn't need to be a company's worst nightmare. If proactive steps are taken ahead of time, a company can significantly reduce or eliminate their chances of damaging penalties and fines.
In order to ensure energy utility worker compliance with the latest compliance training and technology, employers must develop specific key areas of focus: health and safety, professional skill maintenance, new technologies and challenges, and performance monitoring. They also need to find the right technology partner to offer a customizable learning management system that promotes self-directed learning, integrated performance monitoring, and innovative curriculum design. The compliance training program is based on either the OSHA or NRC standards and should address individual employee learning styles.
An employer needs to partner with an organization that can provide the appropriate training in a manner that complies with OSHA as well as other regulations like the NRC and NFPA.